Position title
PET COUNSELORS
Description
Safari Stan's Pet Center is looking for some Dynamic People!!!! 203-901-1003
Some of our Best Employees used to be our Best Customers.
Our Pet Counselors are dedicated to matching the right pet with the right customer and meeting the needs of both. To our customers who already have pets, pet counselors are dedicated to enhancing their knowledge and enjoyment of the human-animal bond.
Great if you have some fish or reptile experience.
At Safari Stan's Pet Center there is always room for advancement!!!
Responsibilities
• Provide dynamic customer service, while educating our customers through teaching proper pet care.
• To maximize productivity memorize and utilize our systems, such as our Mission, 4 Basic Needs, C.A.P, Pets For A Lifetime and Adopt- A Pet.
• Maintain excellent animal husbandry for the pets by performing opening, daily, and closing procedures and assisting in maintaining a clean, organized and safe store environment.
• Assist in Community Service projects in and out of the store as directed.
• Assist Animal Care Technicians with any additional animal care as needed.
• Perform other duties as assigned by store management.
Qualifications
• Must have the ability to read and write English and follow oral and written instructions. Also looking for fluent Spanish speakers.
• Must have the flexibility and stamina to work retail hours.
• Must be able to wear and maintain the Safari Stan's Pet Center uniform.
• Must be able to comfortably and repetitively lift 25 lbs.
• Must have the ability to interact with employees and customers.
Hiring organization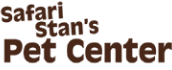 Employment Type
Full-time, Part-time
Beginning of employment
ASAP
Industry
Pet Store
Job Location
142 Amity Rd, New Haven, CT, 06515, USA
Date posted
October 20, 2021
Valid through
November 30, 2021
PDF Export